Special Offer: Schedule A Water Softener Inspection With Culligan for $45
Not satisfied with your water pressure? Have you noticed build up or residue from hard water around your home? Your Culligan water softener may not be operating at peak efficiency.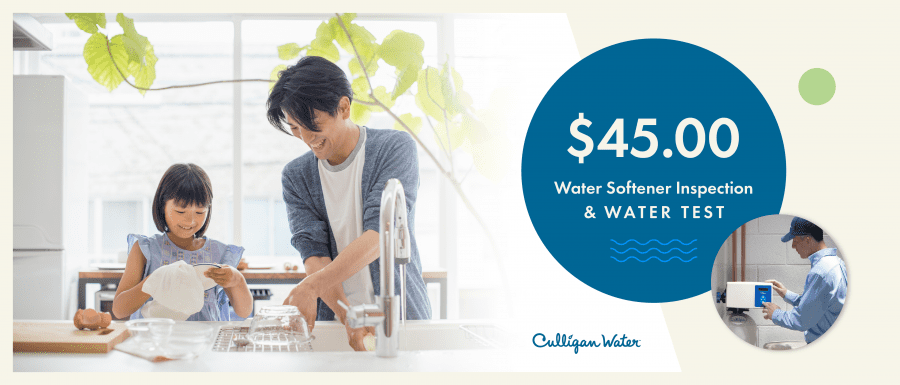 Your Culligan of Orwell Water Expert has the knowledge and know-how to service and inspect any water softener systems available today – even if it's not a Culligan system – and ensure you're getting the best possible water.
For a limited time, your local Culligan water expert will perform a complete inspection of your current water softener for $45.
Your $45 Culligan Water Softener Inspection Will Include:
Test water hardness in home
Examine water softener for leaks
Check and test existing drink water systems and filters
Look for excessive use of salt
Check bypass
Check timer and salt settings for malfunctions
Look for salt bridging
Review salt system performance
Schedule Your Inspection Today
Fill out the form below to schedule your $45 water softener inspection with Culligan of Orwell.

Benefits Of Having Your Softener Inspected
Keeping Up with Maintenance - Your softener has many moving parts that can wear out with team and use. Your local Culligan Man™ can check to see if anything needs to be replaced or maintenanced.
Cleaning the System - We'll check to make sure your Softener is free of salt buildup or bridging. During your inspection, we'll recharge your resins and clean out your brine tanks as needed to maintain optimal performance.
Optimizing for Efficiency - Avoid wasting money on utilities by having your Culligan Man™ review the settings on your softener to make sure you're not using more water than necessary. It's important to make sure your softener is set to the correct usage of water for your household.
Limited time offer. Dealer participation varies. See dealer for details. Impurities may not be in your water. ©2021 Culligan International Company.