Culligan of Orwell
You could give your people Culligan Water.
Your Orwell Water Treatment Experts
We are Culligan of Orwell, your water technology experts proudly serving northeastern Ohio. Our dealership specializes in providing water softeners, reverse osmosis systems, water coolers, bottled water, water filtering and softener salt delivery service to area homes and businesses.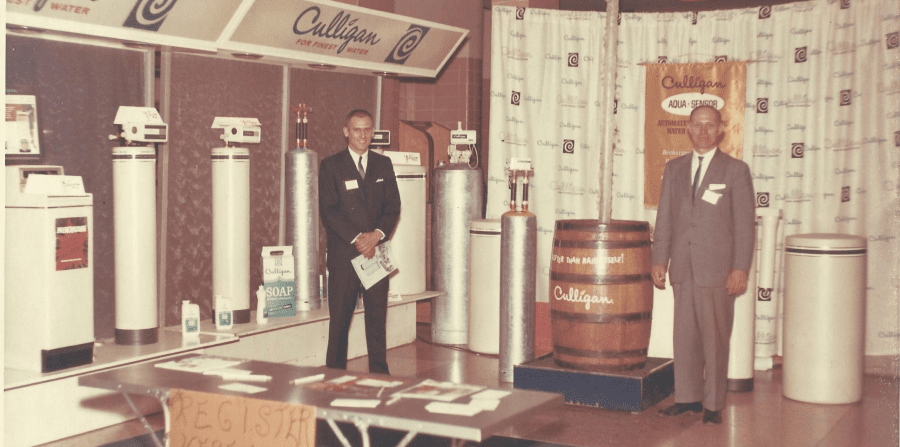 CULLIGAN OF ORWELL HISTORY
Culligan of Orwell is a family owned Culligan dealership that has been serving Ashtabula and Trumbull Counties for over 50 years. Our franchise was started by Melvin, Alvin and Ewin Easton (pictured above) on November 11, 1957. The current owners of the dealership are Elwin's sons, Lee & Lawrence Easton. We currently have 3 generations of the Easton family employed at the dealership.
Culligan of Orwell has treated just about every water problem in our area, including but limited to, iron, sulfur, arsenic, lead & of course hardness. Problem water can harm your home or business in a variety of ways, and Culligan has the right water treatment equipment for every situation.
Outside of our standard business hours, we offer a wide variety of in-home appointment times to fit your busy schedule. Our delivery drivers are always out making sure you have the Culligan Bottled Water, water softener salt and other products you need for top-quality water.

---
Reviews for Easton Service Inc. dba Culligan Water Conditioning
---
05/11/2022
When there is a need for service, it is completed in a timely manner. Products are very effective and dependable. We are seniors and this water condition process is no nonsense. It is well worth the monthly payment for us. Thank you! John & Penny Nastasi What I like about your service is the fast response time to meet our needs what ever it may be. Also you can count on the service to be done right the first time. Everyone is so respectfully willing to help you. Thank you,John & Penny Nastasi
---
03/05/2021
Great water cooler I have from them, fast delivery on water when you order. I recommend them..
---
03/25/2022
The only place around to get my carbon filters.
---
01/11/2022
Great service friendliest staff
---
11/21/2020
We are "as requested" customers. The service is always great. They deliver when they promise to. Would recommend to all!
---
---
Hey Culligan!
Hours
Monday: 8:00 AM – 4:30 PM
Tuesday: 8:00 AM – 4:30 PM
Wednesday: 8:00 AM – 4:30 PM
Thursday: 8:00 AM – 4:30 PM
Friday: 8:00 AM – 4:30 PM
Saturday: Closed
Sunday: Closed
Areas We Serve
Andover, Ashtabula, Austinburg, Bristolville, Burghill, Conneaut, Cortland, Dorset, Farmdale, Fowler, Geneva, Girard, Jefferson, Kingsville, Kinsman, Leavittsburg, Mc Donald, Mesopotamia, Middlefield, Mineral Ridge, Newton Falls, Niles, North Bloomfield, Orwell, Pierpont, Rock Creek, Rome, Southington, Vienna, Warren, West Farmington, Williamsfield, Windsor
Learn more about how you can have better water.
Latest
Blog Posts
How filtered is your tap water? Find out with a free water test from your local Culligan Water expert. FREE
Get a jump start on your new year's water resolutions! Schedule your free water test from your local Culligan Water
The only place around to get my carbon filters.

Don Stevens
- Culligan Customer